Keto Dinner Recipes
1:Cheesy Bacon Ranch Chicken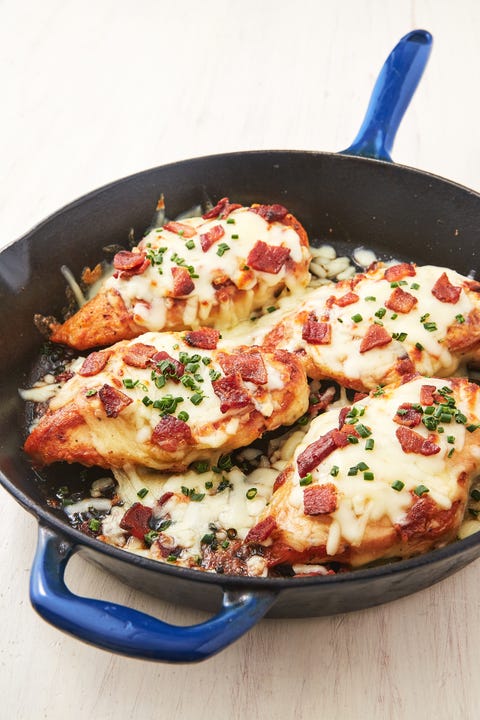 All your favorite things wrapped into one skillet dinner.
If you're trying a keto diet, these cheesy chicken breasts make the perfect quick and easy weeknight dinner. The ranch seasoning is optional…but how could you not?YIELDS:4 SERVINGSPREP TIME:0 HOURS 10 MINSTOTAL TIME:0 HOURS 35 MINS
INGREDIENTS
 4 slices thick-cut bacon4 boneless skinless chicken breasts (about 1 3/4 lbs.)
Kosher salt Freshly ground black pepper 2 tsp. ranch seasoning1 1/2 c. shredded mozzarella Chopped chives, for garnish
DIRECTIONS
In a large skillet over medium heat, cook bacon, flipping once, until crispy, about 8 minutes. Transfer to a paper towel–lined plate. Drain all but 2 tablespoons of bacon fat from the skillet.
Season chicken with salt and pepper. Return skillet to medium-high heat, add chicken and cook until golden and just cooked through, about 6 minutes per side.
Reduce heat to medium and sprinkle chicken with ranch seasoning and top with mozzarella. Cover the skillet and cook, until cheese is melted and bubbly, about 5 minutes.
Crumble and sprinkle bacon and chives on top before serving.
2:Keto Bacon Sushi
Don't abandon your sushi habit—make it better.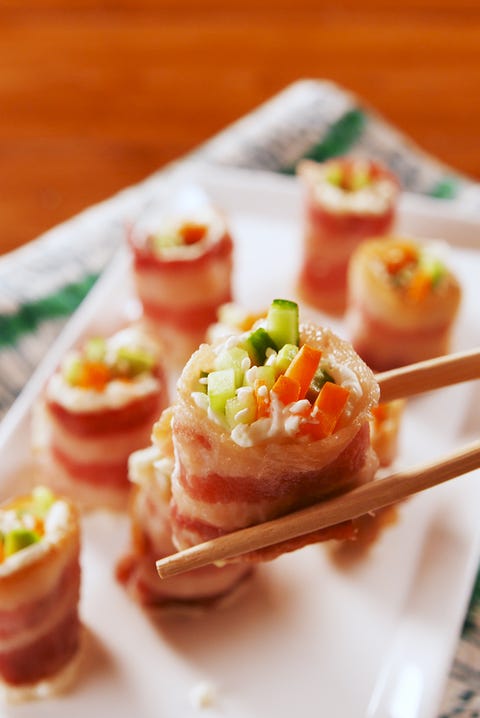 Being on a keto diet means you have way fewer options for snacking. Never fear! These little guys will satisfy all your snack cravings: They're salty, creamy, and crunchy, but they won't weigh you down. We went for carrots, cucumbers, and avocado for our filling, but the options are endless. Switch it up with bell peppers, celery, radishes, or whatever else you have on hand!YIELDS:12PREP TIME:0 HOURS 10 MINSTOTAL TIME:0 HOURS 30 MINS
INGREDIENTS
6 slices bacon, halved2 Persian cucumbers, thinly sliced2 medium carrots, thinly sliced1 avocado, sliced4 oz. cream cheese, softened Sesame seeds, for garnish
DIRECTIONS
Preheat oven to 400º. Line a baking sheet with aluminum foil and fit it with a cooling rack. Lay bacon halves in an even layer and bake until slightly crisp but still pliable, 11 to 13 minutes.
Meanwhile, cut cucumbers, carrots, and avocado into sections roughly the width of the bacon.
When bacon is cool enough to touch, spread an even layer of cream cheese on each slice. Divide vegetables evenly between the bacon and place on one end. Roll up vegetables tightly.
Garnish with sesame seeds and serve.